Day 30: If Harry said he would answer one question of a fan on a tv interview and it could be any kind of questions, what would you ask him?
I have to admit that I have been thinking a lot and I still cannot come up with an interesting question.
So this is me asking the dumbest question in the history of dumb question!
Do you know what tumblr is? And do you check the blogs dedicated to you?
Day 29: Your Harry's favorite outfits
I think he looks so sexy in this outfit!!!!
There's something about a man in uniform,something that makes you go crazy
Do I have to say why?I don't think so.
Day 28: The craziest thing you would do to talk or at least shake Harry's hand
Hmmm…I am really shy person so I don't know.
If the meeting is the one they do on a tour or engagment I will probably scream his name so he can notice me or I will beg the security in tears to let me shake hand/talk to  him(I am really emotional),and of course they won't let me because I don't think they are allowed to do that.But I think I will be in a first row so that won't be a problem.
But If I have a chance to see him walking on the street or in a club or restaurant I will probably stay near him and start convincing myself to go and say hi to him until he notice that some weirdo is standing there for half and hour starring at him.
Or I will go straight there to say hi(no chance) and I am sure I won't be able to choose proper words to express myself and he might think there is something wrong with me and he will let the security to take care of me(hhahahahaha jk).
But seriously I might forget to speak English and I might start speaking on my native language and of course he won't understand me and I will end up being a weirdo again  
To sum up I will be in shock and I don't think I will do anything crazy.But if I ever have a chance to meet him I will let you know if I did anything crazy.
Day 27: Something that you love about Harry
Something? 
I love his eyes,his smile and the way he connects with people,and kids love him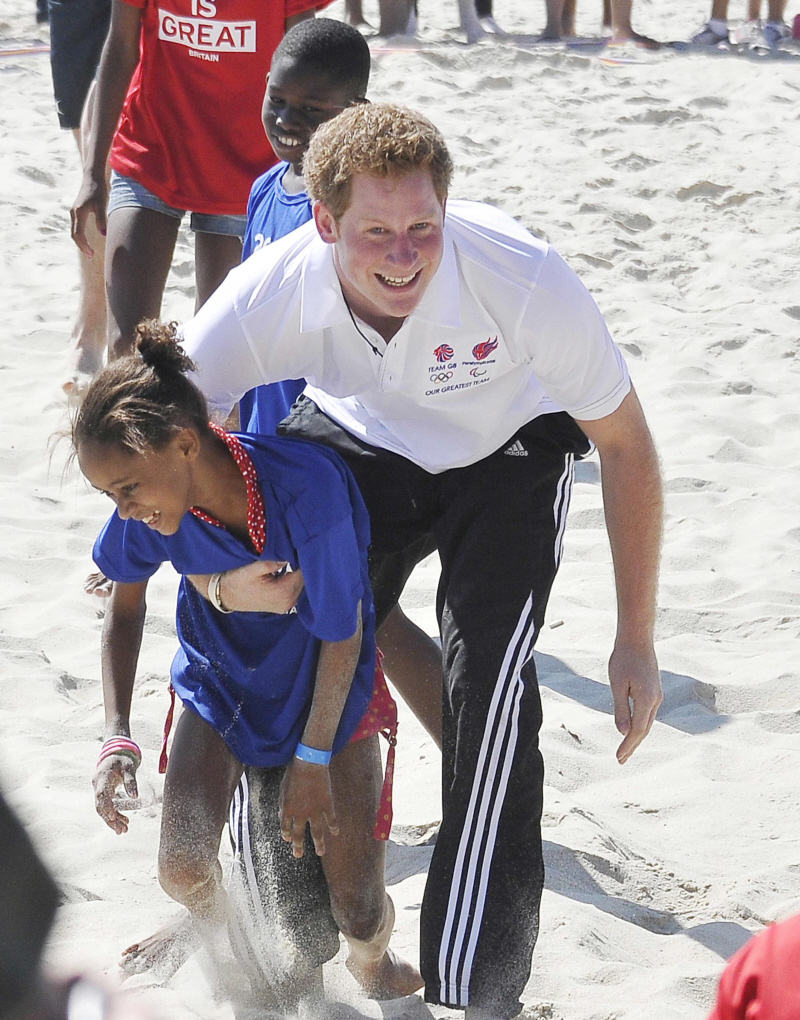 Day 26: How did you learn about Prince Harry?
I know about Prince Harry my whole life.
I remember my mother mentioning Diana and her sons when I was really young.
And I had a crush on William back then. :D
Day 25: Prince Harry's picture that you could stare for the rest of your life
Day 24: Harry's funniest picture
You know I love you Harry but I can't help it. hahahahhaha
Day 23: Your Harry's favorite picture playing polo
Day 22:Do you like Chelsy Davy? Why?
I am not a big fan of Chelsy but I don't hate her.
You all say Kate had 10 years to prepare for her marrige and get used to some rules.
What about Chelsy?She knew who she was dating and suddenly she is not "Royal Wife" type of girl.I guess Chesly and Harry were not meant to be.
Now they are both living their own lives and they both have moved on.
Thing I really respect about Chelsy is that she is super rich but she is still working.And that is something I really like about her.
Day 21: If you could speak with Prince Harry, what would you say?
This is a hard one.
First of all I don't know if I'll be able to speak.Probably he will think I am nuts or something.I will start shaking and maybe faint who knows.
Here it goes
Harry:Hello
Me:Helloooo*insert some wired childish voice*
Than I will ask for a hug(yeah right I am not that brave)
I will tell him how much I admire him and support him.How amazing and brave I think he is.Going in Afghanistan,having his own charity,being friendly to everyone.The way he talks with children etc…
And he will probably be like "Okay okay I got it you think I am amazing"."And now excise me but I have another 100 people to shake hands with"(hahhahahah jk I know he won't say that)